These lunch options are quick and simple to prepare and adhere to the American Heart Association's saturated fat and sodium guidelines. Mediterranean Lettuce Wraps and Spicy Slaw Bowls with Shrimp & Edamame are ideal midday meals that keep you full and your heart healthy. These heart-healthy lunches will give you the energy you need to get through the rest of your day.
Healthy Cold Lunch Ideas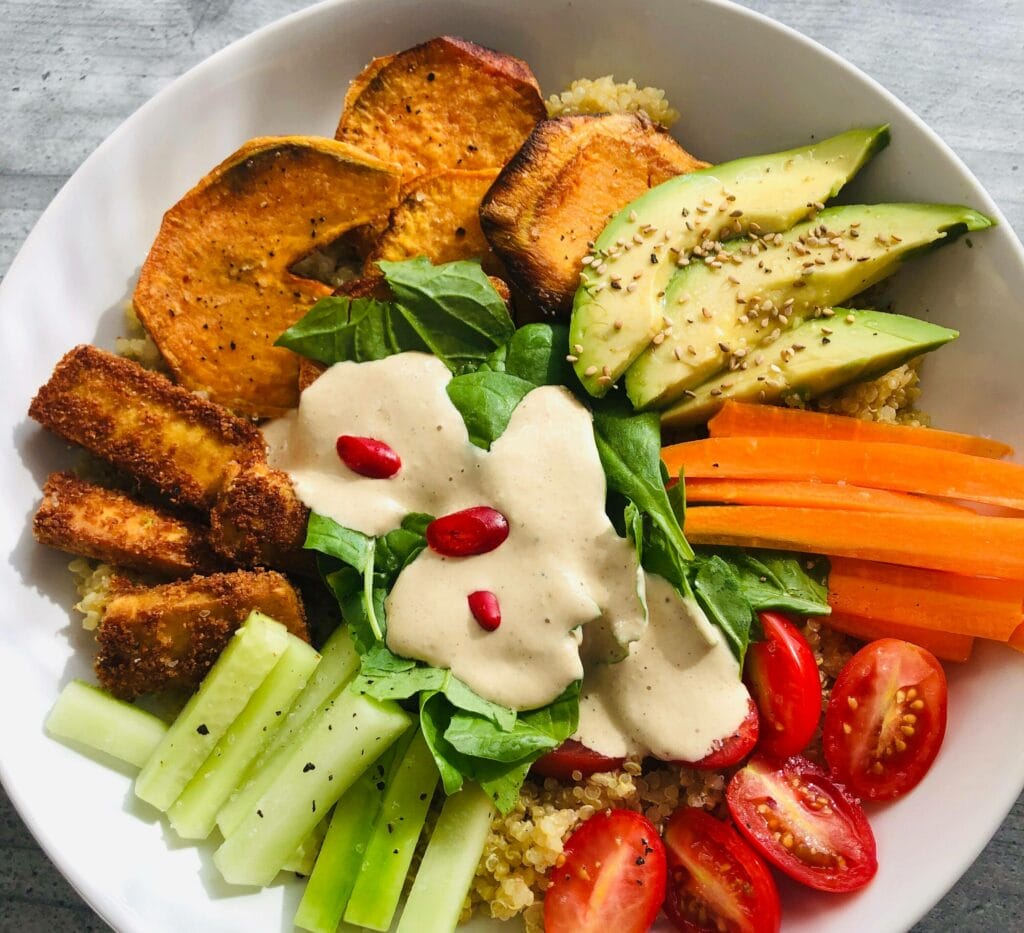 Everyone enjoys lunch, but no one enjoys thinking about what to make for lunch. It's easy to fall into a rut with lunch or rely on less-healthy options. A quick, healthy cold lunch is a great option. If you're looking for the best lunch in Nolita experience, at 19 Cleveland we have many lunch options to serve all your cravings and needs.
Salad for Lunch
We've all been there: you have the best intentions to eat a healthy salad with lots of vegetables for lunch, but by noon, you're starving, and nothing looks more appealing than you planned. So you eat a carb-loaded sandwich, dinner leftovers, or anything other than a salad.
Thai Chicken and Cucumber Salad
Thai chicken and cucumber salad is a quick lunch recipe that you can make ahead of time and then portion out to grab on your way out the door every day.
Balsamic Green Bean Salad
Serve your green beans in a new way with this recipe for green bean salad! These balsamic green beans' tangy flavors and crunch complement any special meal or holiday potluck.
Shrimp Avocado Salad
This salad makes an excellent and filling dinner or lunch. Avocados' delicious flavor and smooth texture combined with the crisp shrimp salad are divine.
Rice Bowls
Cauliflower Rice Kimchi Bowls
These super-veggie cauliflower rice bowls are healthy but aren't lacking in flavor. Kimchi adds a spicy kick, sautéed mushrooms add a rich, savory flavor, and a creamy coconut miso sauce brings everything together.
Bowls of Mojo Black Beans
This simple bowl is an explosion of texture and flavor thanks to a punchy sauce, crispy roasted potatoes, and spicy pepitas.
Hummus and Veggies for Lunch
Everyone knows veggies make a great dip vehicle for our best hummus in NYC, but sometimes you need to branch out a little to avoid boredom with your usual options.
Carrots
Carrots are high in vitamins A, E, and K, which help with vision. Their crunchiness makes them ideal for dipping in our favorite dip, and they come in various fun flavors.
Sweet Potatoes
Sweet potatoes have a plethora of health benefits! They contain a lot of fiber, vitamin B6, and antioxidants. Sweet potatoes aid in blood sugar regulation, the prevention of rheumatoid arthritis, and the maintenance of collagen in the body. They are incredibly versatile and can be either sweet or savory when baked.
Cauliflower
Cauliflower is an excellent meat substitute for those seeking to reduce their animal protein intake. It contains anti-inflammatory compounds that aid in preventing blood vessel diameter reduction.
At 19 Cleveland, we have special Hummus meals that are easy and delicious to enjoy with friends. Such as:
House Hummus
Hummus Masabaha
Rotisserie Chicken Hummus
Crispy Garlic & Tomato Hummus
These are delicious alternatives when looking for something quick and delicious.
Sandwiches & Wraps
Wraps have all of the speed and hand-held, utensil-free convenience of a sandwich while providing more variety. Wrap sandwiches are trendy nowadays. The tortilla wraps make eating the sandwich a breeze—perfect for picnics or packed lunches.
Healthy Hot Lunch Ideas
Falafel Lunch
Falafel is a popular street food throughout the Middle East. Falafel is traditionally made from fava beans in Egypt, where it is thought to have originated, and chickpeas in the Levant and Iraq.
Falafel is high in "healthy fats" and low in trans fats and saturated fats, two of the most significant contributors to high cholesterol. It's a tasty and healthy lunch.
Healthy Soup
There's no better option for warming, cozy comfort food that's a quick, easy dinner recipe than a hearty bowl of soup (possibly with a slice of freshly baked no-knead bread). So, the next time you're looking for a filling meal, try one of these simple healthy soup recipes.
Soup with Vegetables and Turkey
The low-sodium ingredients don't take away from the full flavor of this brothy soup submitted by Bonnie LeBarron of Forestville, New York. The ground turkey gives the soup a hearty flavor that everyone will appreciate on a cold, windy evening.
Carrot Soup
Yukon Gold potatoes replace cream in a smooth carrot soup, adding a mild sweetness.
Hearty Pork Bean Soup
It's beautiful to come home to this pork bean soup dinner simmering away in a slow cooker, especially on a busy weeknight.
19 Cleveland opened in 2018 in lower Manhattan; since then, we have specialized in delicious Israeli cuisine that everyone can enjoy. Whether you are looking for soup, dinner, or lunch, we hope to be able to serve our tasty dishes to you.