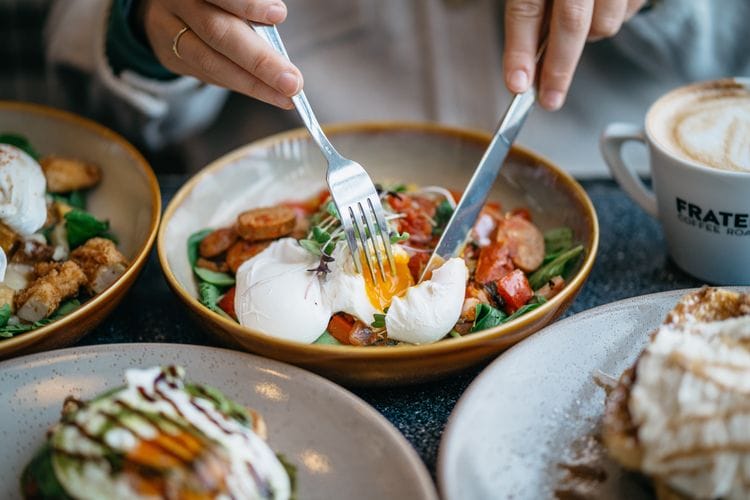 Brunch cravings are addictive and a visit to 19 Cleveland for brunch will have you calling friends & family for brunch dates every weekend. But first, let's talk more about this unique meal.
What is Brunch?
Brunch is a meal eaten between 10 a.m. and 2 p.m., most commonly in the early afternoon or late morning. In terms of its composition, brunch combines elements of breakfast and lunch since both meals are intended to complement each other.
Many people enjoy late breakfasts and early lunches on Sundays because they sleep in on weekends or go to church. However, nothing is more exciting or delicious than having a dish for brunch.
History of Brunch
Punch magazine coined the term "brunch" in 1896 as a portmanteau of breakfast and lunch. Food historians believe brunch originated among the upper classes of British society.
Sunday was a day off for servants in upper-class homes, which meant they would put out a breakfast buffet early in the morning where people could enjoy their favorite foods. The origins of punch were in making fun of brunch, and the tradition persists in some circles.
Traditionally, brunch has been seen as an event only on weekends, but the concept dates back centuries.
Brunch Restaurant
Brunch dishes typically don't have many complicated ingredients and are intended to be eaten quickly. This includes eggs (cooked in scrambled, sunny side up or over-easy), bacon and a variety of pancakes. The brunch menu in restaurants often consists of breakfast foods and lunch-like items like seafood cocktails. In some restaurants, you may also find quiche, french toast or spanakopita, an interesting Greek dish.
However, the foods often contain heavy and greasy fats, perhaps because some cultures view these foods as hangover cures and are ideal for hungover people. Mimosas & bloody Marys are typical drinks at upmarket brunches and champagne is commonly served.
If you're looking for a Mediterranean brunch in NYC, then you'll be happy to know that 19 Cleveland serves brunch every Saturday and Sunday from 11 am to 5 pm.
Brunch Ideas at Home
Perhaps you are wondering what you can serve for brunch. Breakfast classics like bacon, eggs and muffins are a good bet. Brunch foods are endless when it comes to choices.
Make a list of all the dishes you like to eat for breakfast and lunch. Each of those dishes would be ideal for brunch on the weekends. Brunch desserts have also become a thing so that you can include any of your favorites.
Brunch is popular before afternoon events, such as weddings and sports matches. People will hold over until early evening when dinner will be served with a filling meal. Some parts of the world consider it a luxury and give it to people on special occasions such as birthdays. Treating yourself to an in-bed brunch is ideal when you want to pamper yourself.
A Blend of Health
A healthy breakfast and lunch should be combined with traditionally served foods for breakfast. Offering a little bit of everything will satisfy everyone. Remember to consider your guests' allergies and dietary restrictions when putting together a brunch menu.
To create the perfect brunch menu, you must strike the right balance between sweet and savory elements. With every fruity sugar-dusted scone or biscuit, you'll want to serve a dish that's packed with eggs, vegetables & maybe even some spice.
Potluck
Brunch potlucks never fail to impress! However, you can make a brunch team effort if assembling one on your own seems daunting. Make sure to tell your guests about any relevant food allergies and dietary restrictions when inviting them to bring their favorite brunch dish. If you opt for the potluck method, you and your guests will have a chance to try new dishes.
It's Not Just Homemade
Everything does not need to be homemade. While you can make plenty of delicious brunch items from scratch, you might as well buy some from the store. A brunch spread can be beautifully rounded out with pastries, donuts, bagels, fresh fruit & juice. If you don't have time to make your dessert, you can serve store-bought cookies and cakes.
Buffets
When in doubt, brunch buffets are a great option. There's no need to provide plated servings at brunch or treat your guests as if they're at a restaurant because brunch is inherently less formal than dinner.
Place the buffet on the kitchen counter or in a designated area near the dining table so that everyone has a chance to choose what they want. If it's a potluck, have guests bring their contributions as they arrive.
Set Up a Mimosa Bar
If you want a boozier brunch, set up a mimosa bar with a selection of fruit juices and sparkling wine. Providing sparkling cider to those who don't drink is also an option. Set out fresh berries and mint as garnishes to fun the extra party. These are the best moments to break out those champagne glasses that make you feel fancy!
Get a Brunch Delivery
Sometimes, you want the fun and deliciousness of brunch without doing any of the legwork. That's where 19 Cleveland comes in! If you want brunch delivered to your NYC location, then you can order online and we can bring it to you.