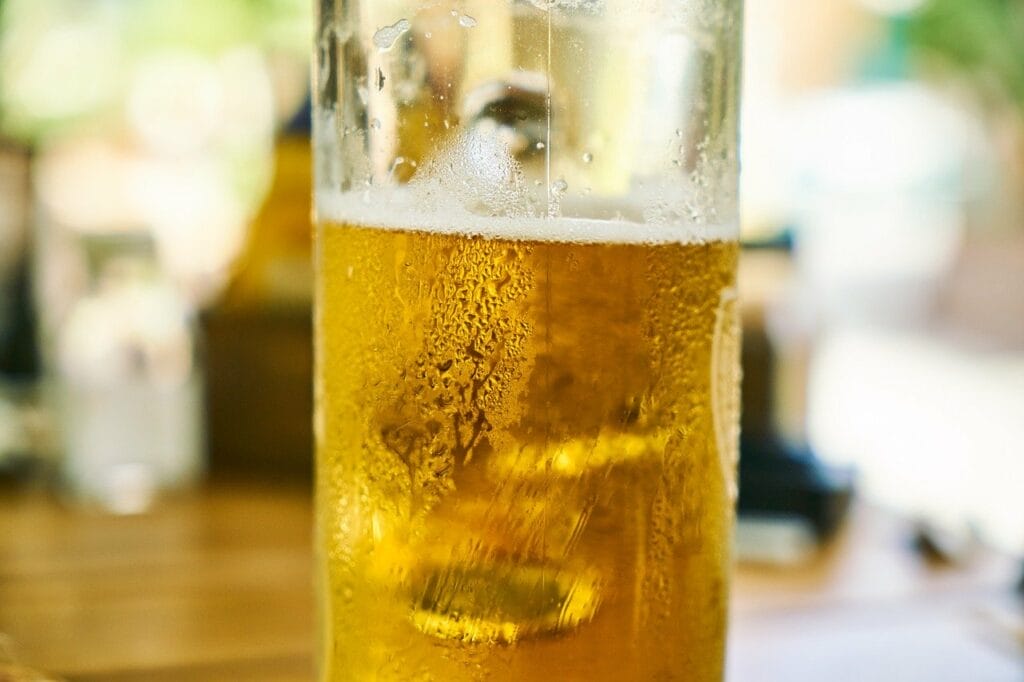 Israel is home to many refreshing and flavorful alcoholic beverages. From traditional spirits to draft beer, there are plenty of options to quench your thirst. Whether you're partaking in Israel's bustling nightlife or unwinding at a local bar, you're sure to find these drinks on the menu.
Goldstar Beer
Goldstar beer is one of Israel's most instantly recognizable beverages. The beer is marketed as a dark lager, despite its amber color, with a standard 4.9% alcohol level. Expect to find it on draft throughout bars and restaurants in Israel.
Goldstar is modeled after Munich Dunkel-style beers, making it malty but easy to drink. The brand also offers an unfiltered edition of its signature beer, which follows all of the same brewing processes but alters the final step, preserving the natural flavors in the beer. Goldstar also offers a slow brew beer for braver souls—the beer has a 10% alcohol content and packs a more powerful punch. All of the beers are certified Kosher.
Goldstar beer has been brewed in Israel since 1950, originally produced at the Cabeer Brewery in Rishon LeZion. When it first came out, Goldstar was sold as "Nesher Gold Star" beer and was the first beer in Israel to be sold in barrels, making it Israel's first draft beer. In 1985, Tempo Beer Industries acquired Goldstar beer and has been producing it ever since.
Goldstar has enjoyed its share of celebrity status — Paul Newman, Moshe Datz, Sharon Regiano, and Claudia Schiffer have all been associated with the Goldstar brand.
Arak Liquor
Arak is a clear, potent licorice-flavored liquor that is often served on ice or mixed with water, grapefruit juice, or lemonade. The liquor is made by distilling grapes into neutral alcohol and adding anise. When combined with water, Arak liquor takes on a milky white color.
Different regions have created their own variations of arak, adding dates, sugar, plums, figs, and molasses to the liquor. Arak's taste ranges from herbal and grassy to fruity and anise-flavored. The spirit traditionally has no added sugar.
Arak is considered to be one of the first flavored spirits ever made. The liquor was born of the Arab invention of alembic distillation in the 12th century. Before this invention, people only drank fermented drinks low in alcohol content, like beer, wine, and mead.
Alembic distillation allowed the creation of highly alcoholic spirits. Arab scholars called this discovery Al-Kuhl, and the distillation of leftover grapes was called arak.
Arak and the distillation method found their way to Europe when the Egyptian Fatimids ruled Sicily in the 11th century. The Mediterranean region then created their own spirits with this technology — Turkey created raki, Greece had ouzo, Italy made sambuca, pastis emerged from France, and Spain made Ojen. Even Irish monks studied the process of making arak, which allowed them to invent whiskey!
People of all walks of life drink arak for many occasions—it is served in coffee houses, bars, clubs, fine-dining restaurants, and households across the Middle East. If you try arak, be sure to mix it. The liquor can have anywhere from a 40% to 63% alcohol content!
Limonana Cocktail
This summery drink is made up of lemon, mint, and arak. Flavors of anise and fermented grapes from the arak play well against the light, sweet limonana, a Middle Eastern mint-flavored lemonade. This drink is sure to warm your spirit and quench your thirst simultaneously.
Limonana is thought to have originated in Turkey or Syria, but is now a staple summer drink throughout Israel, Lebanon, Cyprus, and Egypt. The freshness of the mint adds a coolness to traditional lemonade, perfect for a hot climate.
The name "limonana" is a combination of the Hebrew words for "lemon" and "mint." While limonana has been around for a long time, in the 1990s, advertisements for a lemon and mint soft drink popularized the name "limonana" for minty lemonade in Israel.
Limonana itself is non-alcoholic, but its refreshing taste makes it the perfect candidate for a base ingredient in a beachside cocktail.
All three of these popular Israeli drinks are available on the drink menu here at 19 Cleveland, so give them a try when you come here.